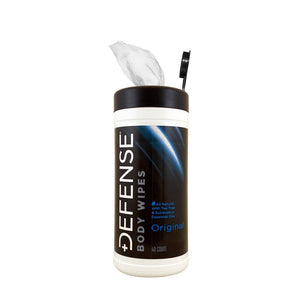 Defense Original Body Wipes contain the same 100% natural essential oils as the bar soaps and shower gels. These body wipes are not intended to replace showering but to cleanse the skin when you are unable to take a shower within four hours of training or competing. This four hour period is the critical window for contagions to develop. They are designed to be portable for easy use and our thick cloth is durable enough for heavy use. Defense wipes fit perfectly in the side pouch of any gear pack or can be easily thrown into a duffel bag without leaking. The natural tea tree and eucalyptus oil that is used in the body wipes provides a spectrum of antimicrobial benefits and promote healthy skin. Defense wipes never contain any parabens, sulfates, SLS, triclosan, or fragrances.
This product is made in the USA.

Ingredients: Distilled Water, Tea Tree Oil, Eucalyptus Oil, and Coco Glucoside.